← Back
Trump & Pecker bromance is made in tabloid heaven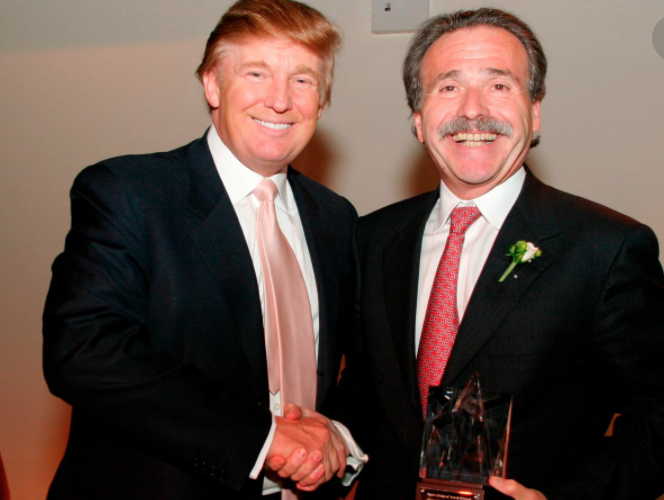 Donald Trump's press strategy could be ripped straight from the pages of George Orwell's dystopian novel, 1984…..
As Donald Trump has shown us time and time again, the White House's current press strategy appears to be–dismiss any reports that reflect negatively on the administration as fake news, and counter with a distorted and self-serving version of events—the now-infamous #alternativefacts, if you will.
After accepting that the mainstream media was never going to just roll over and toe the propaganda line, Trump doubled down on social media, recognizing it as an invaluable platform from which to spread his version of the news—all without the inconvenience of pesky fact-checking, and journalistic standards.
But, there was another powerful propagation tool out there to be utilized, one that speaks directly to Trump's core base, in addition to sharing his preference for style over substance, The National Enquirer.
Considering it has built its reputation on exposing others' "dirty little secrets" the tabloid world is uniformly tight-lipped about its own transgressions—and with good reason. Checkbook journalism, highly questionable reporting practices, and an even more questionable moral compass when it comes to a commitment to telling the truth, The National Enquirer makes for the perfect bed partner for Donald Trump.
Egomania, a talent for self-promotion, a fast and loose relationship with the facts, and a willingness to "massage" or just downright ignore, the truth, when it proves to be inconvenient…there's a reason American Media CEO, David Pecker, and Donald Trump are a match made in tabloid heaven.
Pecker has a well-earned reputation for name-dropping–he loves to boast about dining with one or other of his celebrity "pals", or announce how he just flew into town on his "good friend" Sylvester's private jet [Stallone, just in case you were wondering]. But, Trump has always been the most-treasured celebrity jewel in Pecker's crown–back from when he was just a reality TV blowhard–so, when Trump announced his intention to run for President, it's little surprise that his old pal Pecker was determined to grab on to his coattails and come along for the ride, at any cost.
When you are the CEO of a media company, with numerous tabloid titles under your control, there are countless ways that you can help out your powerful friends. For starters, you have at your disposal, the full force of a reporting staff, who are well-versed in digging up dirt on people and have no problem bending the rules while doing so. Even better though, when you're the publisher of the country's biggest tabloid and known to pay big bucks for stories, oftentimes you don't even have to lift a finger, as the dirt comes straight to you.
One of the best-kept secrets in the tabloid industry is the fact that the majority of (actually genuine and real) big, exclusive stories don't stem from existing sources or exhaustive on-the-ground reporting, they're actually simply phoned in, via the tip line.
So, when somebody calls The National Enquirer, wanting to sell a story about allegedly engaging in an extra-marital affair with Donald Trump, it's like shooting fish in a barrel. A tabloid publisher is handed the perfect opportunity to help out a high profile friend or to earn some very valuable leverage, by executing a catch and kill.
Here's how a tabloid catch and kill goes down:
A tipster contacts a publication with a potentially damaging, or highly embarrassing, story involving a celebrity, or high profile individual. That celebrity just so happens to be a "friend" of the magazine's CEO, who instructs a trusted editor to meet with the tipster and ascertain the validity of their story.
If the tipster's story is deemed to be believable, and their information credible, the editor will then negotiate to buy-up the exclusive rights to the story. Once a deal is agreed, the tipster is given a contract to sign, forbidding them from ever telling their story to anyone else, and permanently handing over the rights to any photographic, video, written, or audio materials they may have relating to the story.
The contract makes it crystal clear that there will be legal action, and a very sizeable financial penalty should its terms ever be broken. So, once the contract is signed, the tipster is forever silenced, and the publisher now owns the exclusive rights to the story. How they chose to proceed from there depends on their agenda–they may kill the story as a favor, or, they may use the story as a form of leverage, as was the case with Tiger Woods, back in 2007.
Two years before the Tiger Woods serial cheating scandal broke on Thanksgiving 2009–ending his marriage to Elin Nordegren, and sending his sporting career into a tailspin–The National Enquirer received a call from a disgruntled mother, claiming her daughter had engaged in an affair with the golfer.
The allegation was reported out, the tipster was signed-up to a gag contract, and the story was promptly taken off of the market. However, the Enquirer never ran it. Instead, Tiger's representative was contacted, informed about the story, and in return for silencing the potential scandal, Woods agreed to do a rare cover shoot and exclusive interview, for Men's Fitness, an Enquirer sister publication.
Arnold Schwarzenegger was another long-standing tabloid target who benefitted from a "close relationship" with Pecker. It wasn't always that way though–in fact, Schwarzenegger had been the subject of a slew of negative, scandalous Enquirer exclusives over the years. That changed, however, after American Media purchased a number of magazines from Weider Publications in 2003, including Men's Fitness, Shape, Flex, and Muscle & Fitness.
Before the ink was barely dry on the $350 million cash plus stock purchase deal, Schwarzenegger suddenly became an AMI-non-target, as it was recognized there was a greater benefit to partnering with the former bodybuilder for the sake of the newly purchased fitness titles. Schwarzenegger went on to write a monthly column for Muscle & Fitness, and Flex, before becoming Executive Editor of the titles–he eventually cut ties with the publications in 2005.
But, it wasn't just a case of banning any negative stories– after Schwarzenegger announced his intention to run for Governor of California, a slew of pro-Schwarzenegger stories began cropping up in AMI-owned publications, including a full-page story in Star Magazine, urging readers to "Vote Schwarzenegger!"
The question is, why would a tabloid media company that runs on celebrity scandal and dirt, purposely kill potentially profitable stories? What's the benefit of doing so? It may appear nonsensical to outside observers, but when you factor in a star-struck CEO–a former accountant, who craves respectability and power in the publishing world, above all else–suddenly it doesn't seem all that strange.
However, as with all relationships, things can change at the drop of a hat, and friendships break. When a high-profile pal is deemed no longer valuable, or protectable, for whatever reason, they can suddenly find themselves back in the headlines, with a tabloid target on their head once again–at the mercy of a former friend who knows, and owns the rights to, all their dirty little secrets. That's something even the President of the United States may do well to remember.
UPDATE: Well, that's a surprise…. Pecker has rolled over like a scared little bitch, along with his tubby little pit bull, the repugnant Dylan Howard, cutting a deal for immunity against prosecution, in exchange for his testimony against his once best buddy, in the event of impeachment.
And, just like that, the bromance is over…….